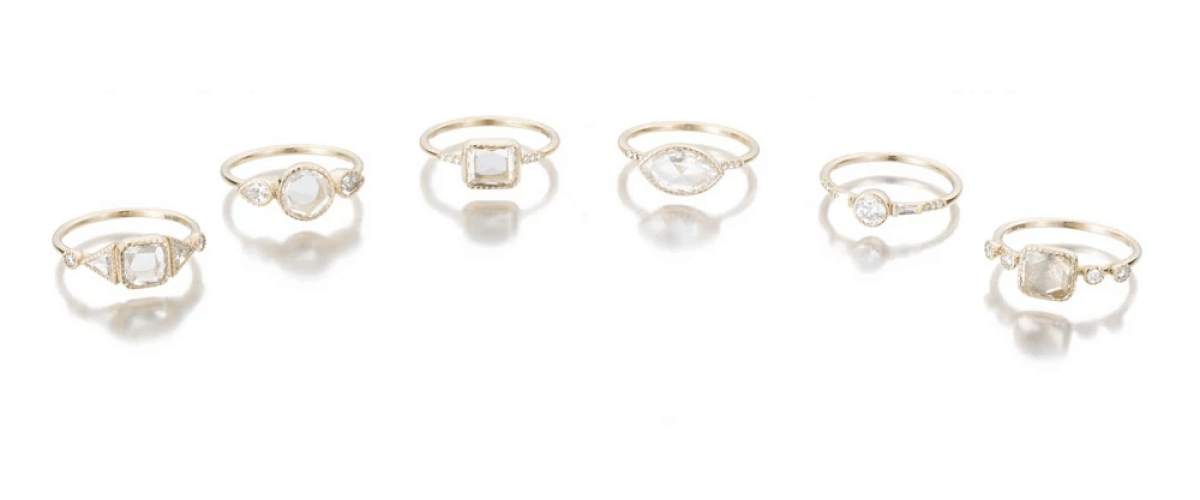 bridal Guide
Finding a Bridal Piece That's Right For You
Such an exciting time, yet finding the perfect piece to reflect a long term commitment to your love can feel overwhelming and stressful. We want to take a load off so you can truly enjoy this milestone!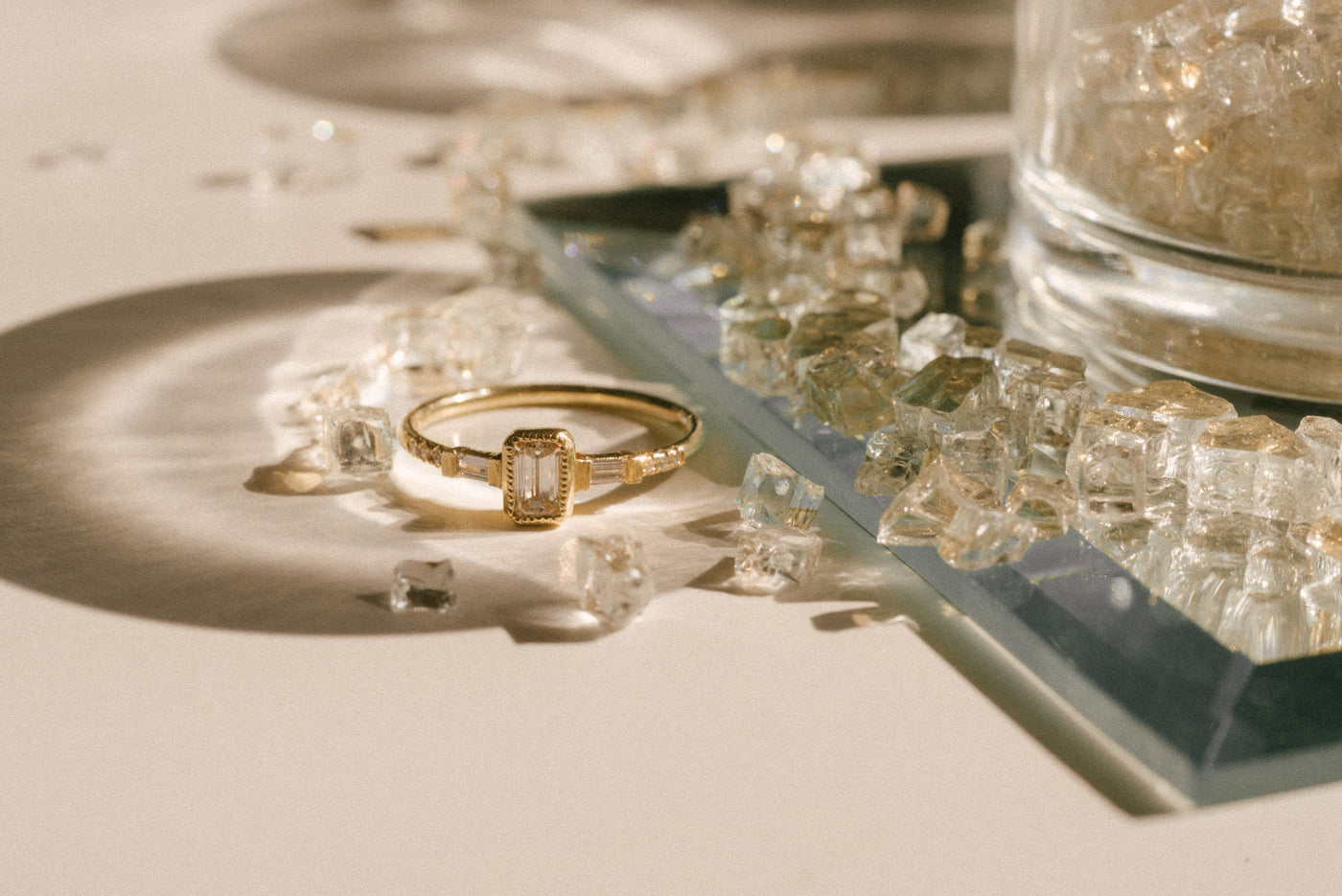 things to consider
Choosing Your Perfect Piece
There are a lot of key words that come to mind when embarking on your engagement ring journey- diamonds, platinum, 4Cs, 3 month salary … The good news is that we live in a time and age where we can kick these things to the curb should you wish to walk down an alternative path. There are so many beautiful options out there that make choosing a perfect engagement ring super fun and liberating. What resonates with you? What's your lifestyle? What properly reflects the unique and beautiful traits of your unique and beautiful union?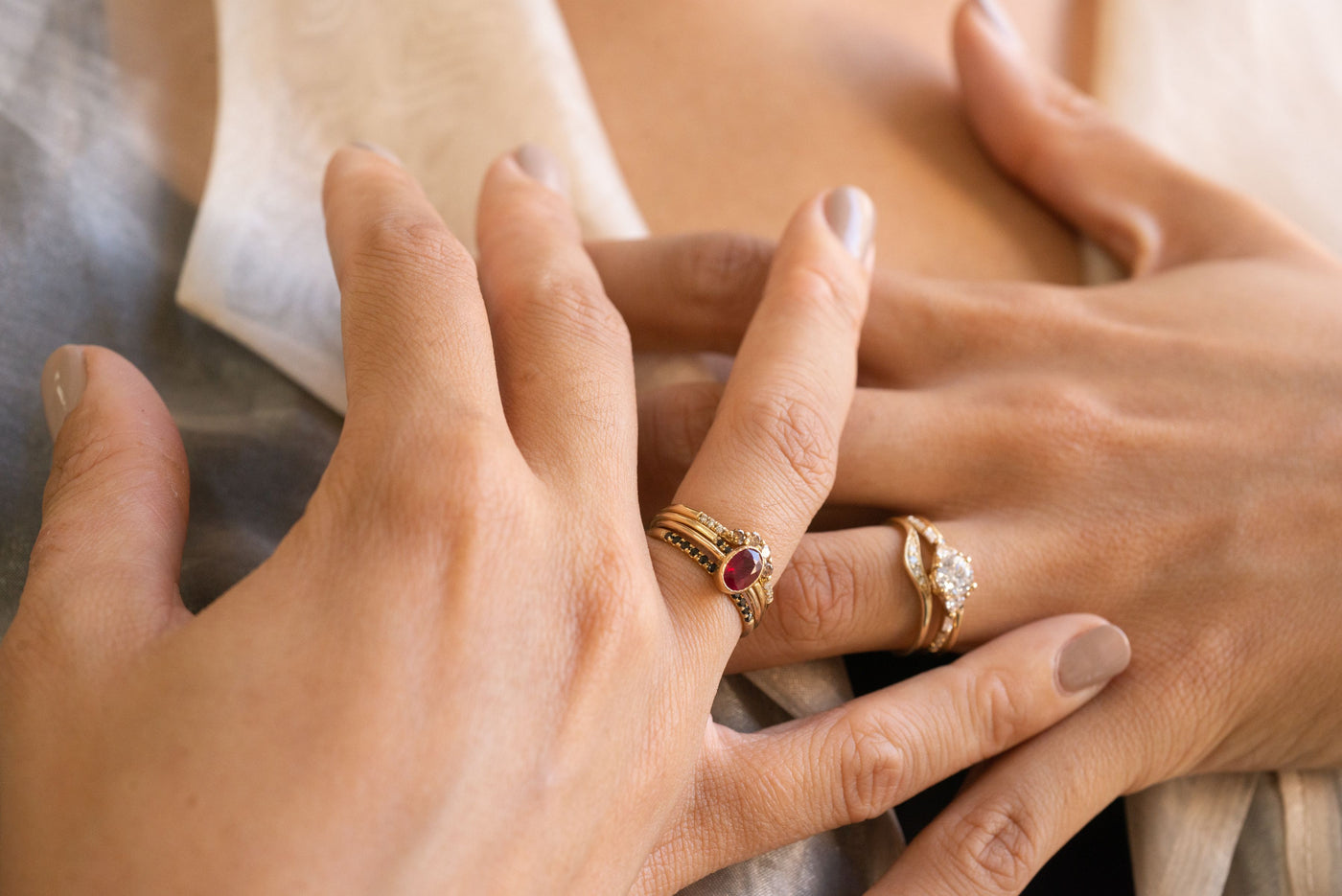 Things to consider
Lifestyle
Are you an active, outdoorsy person?  Do you work with your hands a lot?  Do you have a desk job where banging your hands around is less of a worry?  Do you plan on wearing your ring and never taking it off?  These are all questions to consider when considering a piece.
For those with active lifestyles, we recommend a piece with a low profile to reduce the risk of knocking your ring on things and god forbid, losing any stones.  If you're drawn towards larger center stones, then definitely make it a practice to remove your ring(s) prior to engaging in any activities that are hard on your hands.
We also love the idea of a beautiful band for those who use their hands a lot, topped off with a different yet harmonious band to pair.  Low profile, low risk of knocking out a stone and super comfortable to wear!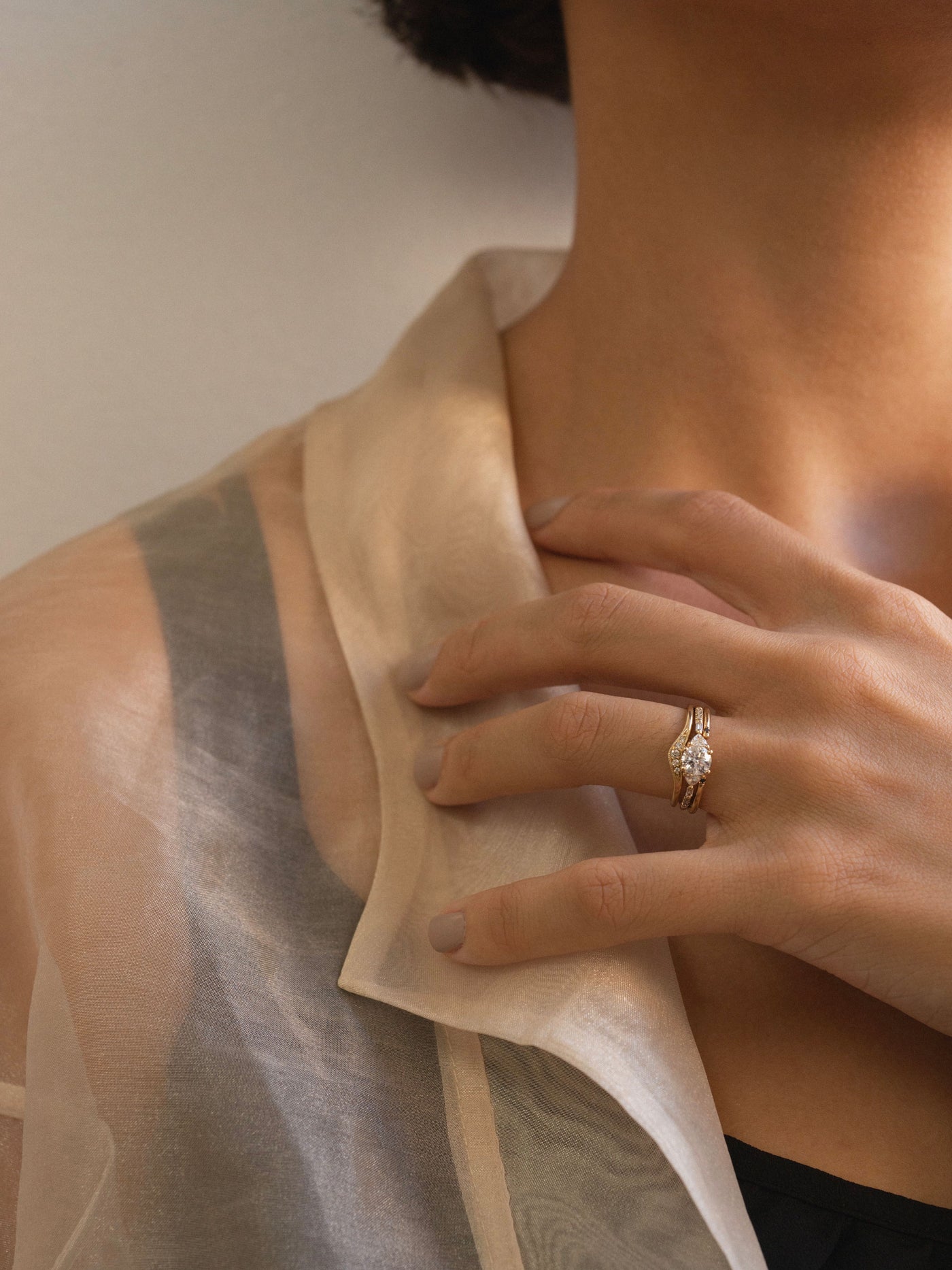 Stone Preference
Diamonds
Of course you can't go wrong with diamonds! They're well established as being the hardest on the MOHs scale (but beware- they still are prone to chipping if impacted the wrong way). Diamonds are classic, beautiful, long lasting and you can't beat that sparkle! Contrary to popular belief, diamonds too are diverse and varied. Rose cuts, brilliant cuts, fancy diamonds, champagne, black, white … Here's the scoop:
Rose Cut: Rose cut diamonds have a flat bottom and a domed top. They have a beautiful candlelit glow and have fewer facets than brilliant cut diamonds. Rose cut diamonds have an antique feel and are quiet yet stunning.
Brilliant Cut: Brilliant cut diamonds are what you think of when you think diamond: a ton of facets and a pointy bottom called the culet. They sparkle like no other and are super classic. Please keep in mind that they have a higher profile than their rose cut diamond sister.
We are proud to design around only conflict free, ethically sourced stones. We also work with lab cultivated stones as well so please contact us for more information.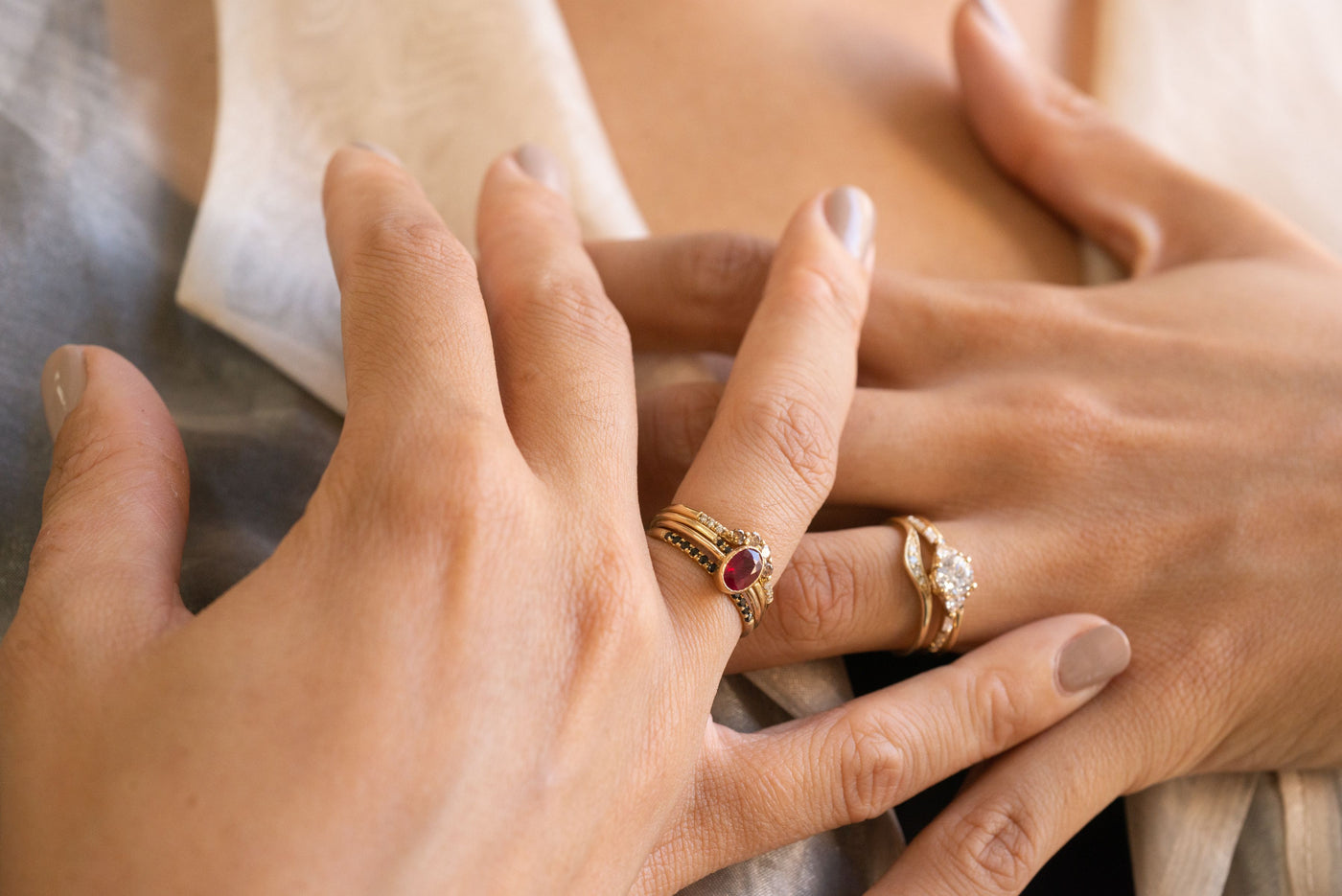 Stone Preference
Colored Stones
Now, if diamonds aren't your thing but you want a stone that can endure some wear and tear, we suggest sapphires or rubies, which are next after diamonds in terms of hardness. These vibrant, passionate stones are a favorite of several JKD couples and we understand why. A perfect mix of taking a walk off the beaten path but also a nod to the practical if you're looking for something that can stay with you and on you for a lifetime.
Emeralds, opals, pearls are all super beautiful, but need to be treated with a bit more care if worn on a daily basis. These stones are a bit softer, more sensitive to their environment and each have their own idiosyncrasies. For more in depth information, please see our stone guide here.
Metal
All of our pieces are made in 14K, but we can custom make each piece in 18K or platinum. We believe in the integrity of these metals, as they can endure wear and tear and if taken care of properly, should last lifetimes.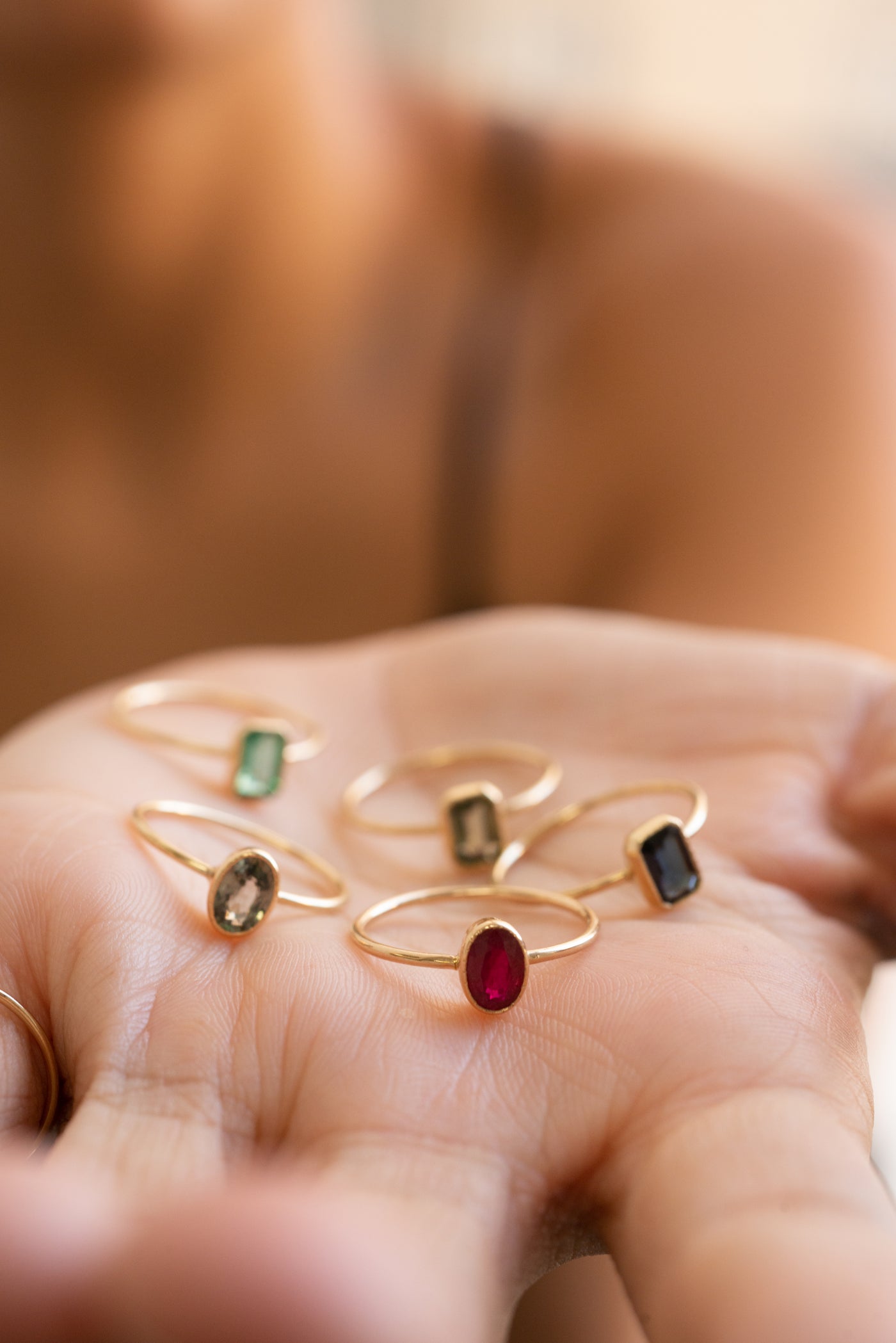 Ring Sizing Guide
Finding Your Perfect Ring Size
For more information on how to find your ring size accurately, please see our ring sizing guide here.
Get in Touch
Our family of JKD couples keeps growing, and we at JKD absolutely love being a destination for alternative, traditional and anything else bridal jewelry.
Please contact us at sales@jenniekwondesigns.com for any questions and we'd love to answer them for you!
xx
JKD