Jewelry and Stone Care Guide
As avid jewelry lovers, we believe jewelry should be worn and loved everyday.  That being said, our pieces are precious wearable treasures (not indestructible industrial parts) and should be treated with thought and care.  Here are a few tips to keep your jewels in their best state and ready to be handed down for generations to come!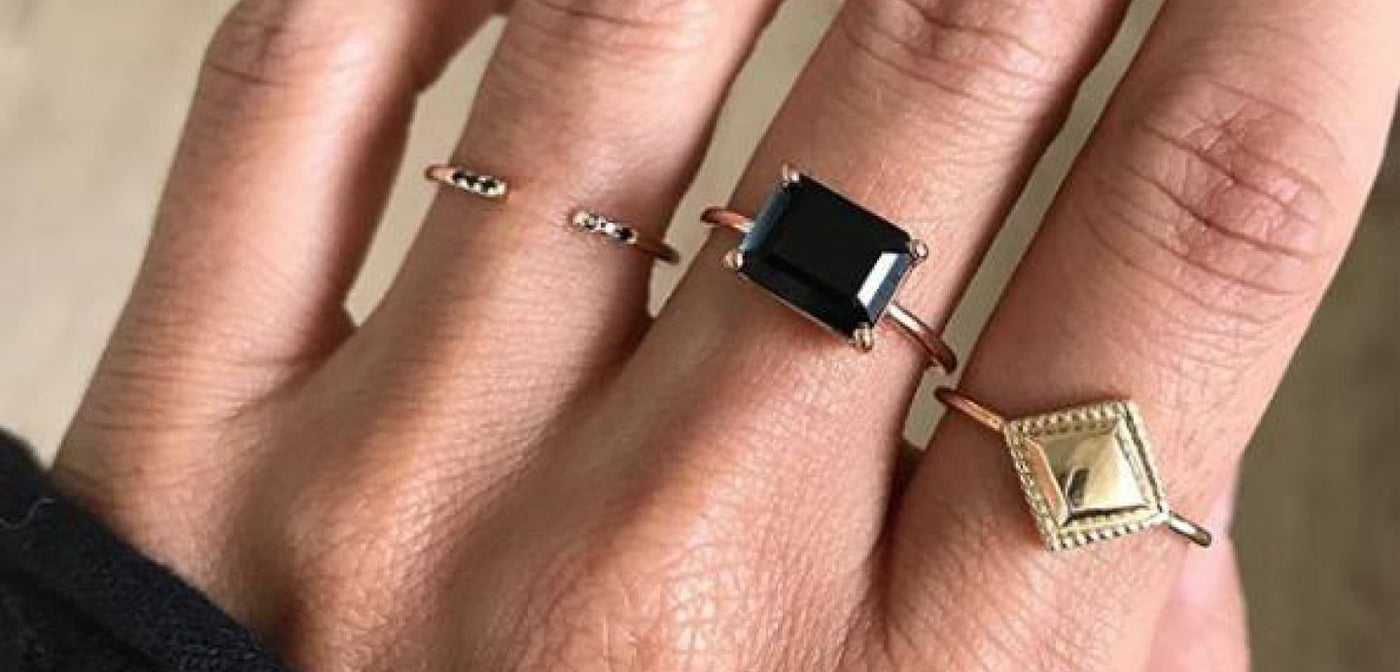 Jewelry Care
Please remove your pieces when engaging in activities that may be hard on your hands, as our pieces are delicate and don't enjoy rough play. These activities may include lifting weights, moving heavy objects, gardening and the like. Pavé diamonds in particular are gloriously hand set with the utmost precision, and even when shanks are slightly bent, this can cause diamonds or stones to pop out from their settings.
- Please order rings in the correct sizes, as shanks that are too large for you can cause a ring to swivel and get warped, which will cause stones to become dislodged from their settings.
- To clean your pieces of grime, use warm water and gentle soap and scrub with a soft toothbrush. For gold and diamonds only, you can dip your piece quickly into boiling water which will remove any debris.
- We recommend taking your piece to a reputable professional jeweler to be cleaned periodically. Please note that certain stones such as emeralds, pearls and opals shouldn't be left in a hot ultrasonic bath, as this can cause the stones to dry out, crack or become discolored.
- Even pure 14k gold can occasionally leave a dark ring around the finger. Rest assured that this is not a reflection of the quality of materials used. Rather, this is a result of interactions of certain products we put on our bodies with the gold (e.g., lotions, creams, perfumes) or a chemical reaction between the piece and our body chemistry. A good hard rub of the piece with a soft polishing cloth will take the oxidation right off.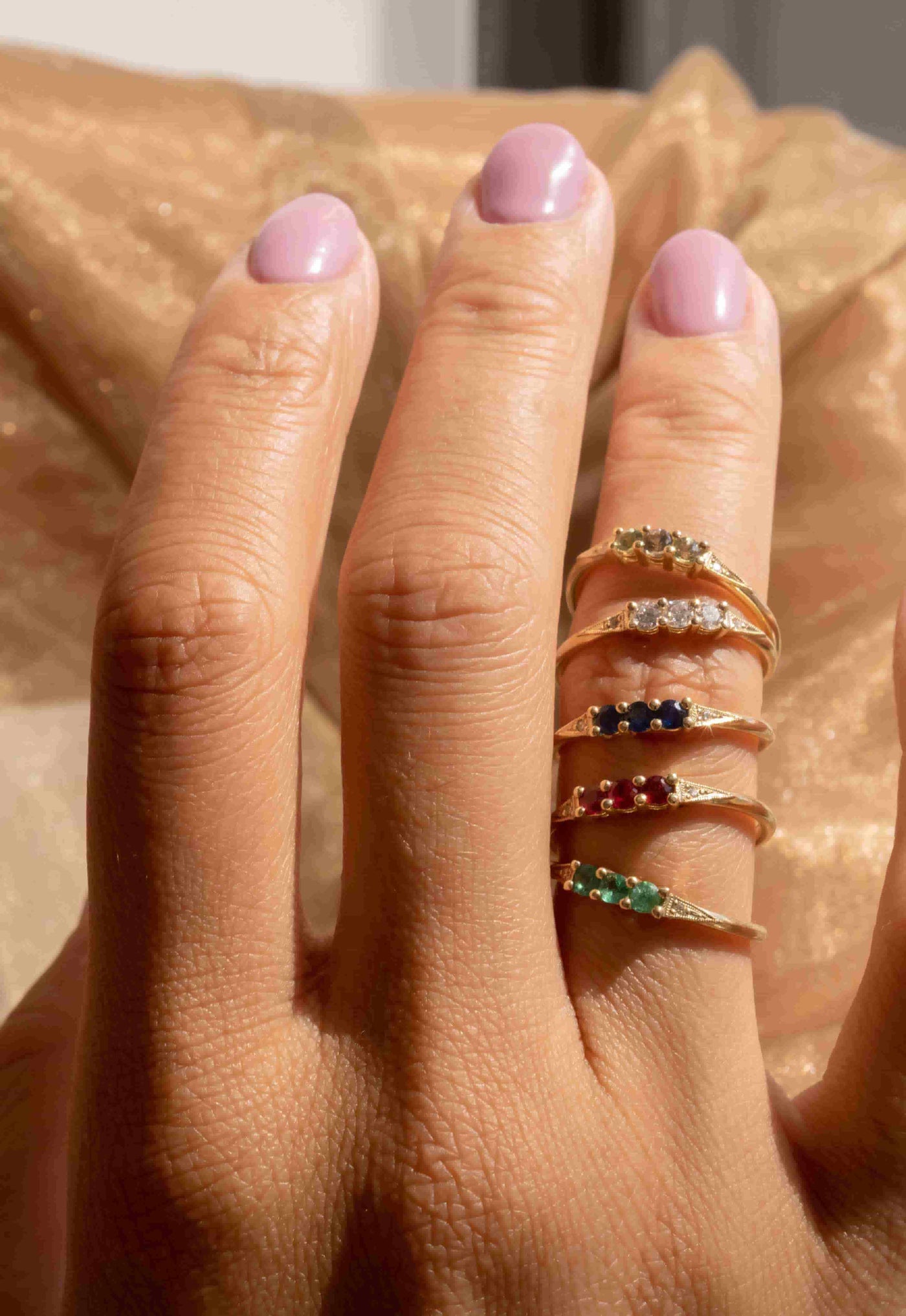 Stone Care
Below are a few tips on our popular stones, to keep them sparkly and fresh!
Diamonds: The hardest stone on the Mohs scale and one of our favorite stones. This stone can be worn everyday and has a hard exterior but can still be chipped if not treated carefully.
Opals: Opals, especially the Ethiopian kind, are stones that are extremely sensitive and reactive to their environment, which make them magical! However, this sensitivity makes them subject to damage if they are exposed to certain chemicals, lotions, perfumes and swimming, among other things. While they do typically return to their original state when dried out in a windowsill in gentle sunlight, some chemicals can alter their state permanently. Please be sure to remove them when appropriate and treat them with care and they'll stay nice for a very long time.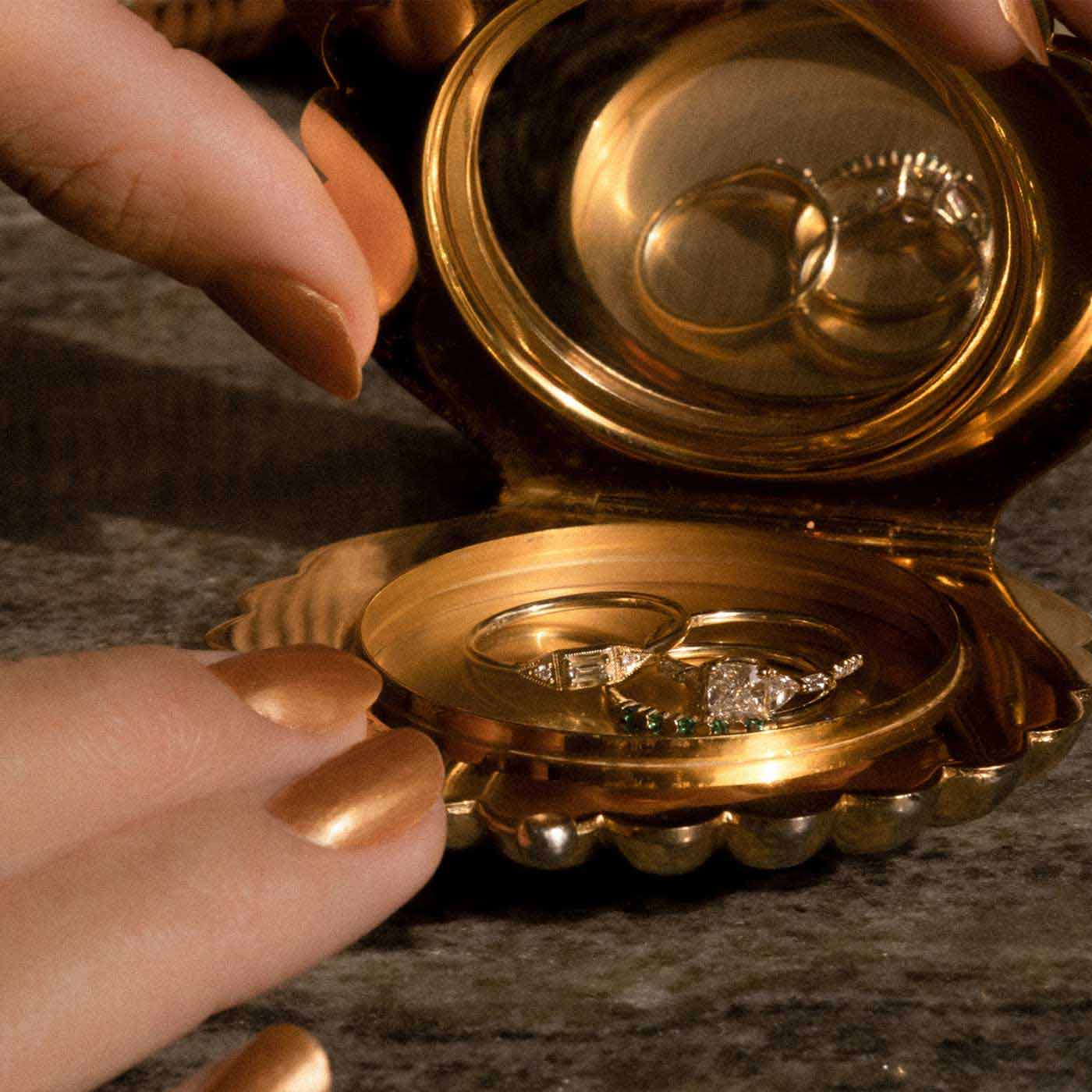 Sapphires: The second hardest stone on the Mohs scale, this stone is safe for everyday wear. We use a variety of sapphires thats range in color. Some of our favorites aside from the traditional deep blue sapphires are Ceylon Sapphires and rose cut sapphires.
Emeralds: The emeralds we use in our pieces are natural and treated with oil. Emeralds are softer than diamonds and sapphires and need to be treated with a bit more care, as they can dry out if exposed to hot water and become chipped and damaged if impacted. Please make sure to remove your emeralds when swimming in chlorinated or ocean water and if engaging in any activities that may be hard on your hands.
Pearls: Pearls are soft stones that need to be treated with a bit of care. When not wearing your pearl piece, store it in a soft place and only clean with a soft cloth moistened with water, as anything more abrasive will scratch the stone and make it lose its luster.